Family Dentist Ramsey, MN
At Rivers Bend Family Dental, we create a comfortable environment to address the unique dental needs of your family.
Dentistry For The Entire Family
At Rivers Bend Family Dental, we create a comfortable environment to address the unique dental needs of your family. We understand, finding a dental practice and dentist you can trust can be difficult. Our focus is providing care that prevents you from oral issues and sets you on a path to healthy clean teeth. The staff at Rivers Bend focus on getting to know you and your family.
Whether this is the dental home you stay with for a lifetime, or the one you get to visit on occasion, we want to give you an experience every time you'll be able to tell others about.
If at any point you have questions about procedures, what's in your treatment plan or even how long before the next appointment, we will be more than happy to receive a call from you. Our staff and doctor are proud of the one of a kind personalized service given at Rivers Bend. We can't wait to please you.
Dentistry for Children (Pediatric Dentistry)
Starting to see the dentist at a young age is one of the greatest gifts you can give your child. By taking them to the dentist early on, it helps your child become familiar with regular checkups and cleanings. With little kids, getting into the habit of proper tooth brushing and encouraging balanced diets while avoiding sugary types of foods can set them on a path towards having to never lose a tooth or experience a toothache. Children that do find themselves getting cavities (tooth decay), we never shame. It's an opportunity to get better at certain habits and develop a specialized preventive plan to set them up for success in the future. Our staff are trained with techniques like tell-show-do and soft vocal control to comfort our little patients. Nitrous is always given as an option for our more nervous patients, parents please ask us about the benefits of utilizing this anti anxiety gas.
Rivers Bend Family Dental provides a wide range of dental procedures to make it convenient for your family to tend to all its dental needs. Our services include but are not limited
Even those with the best oral care can still find themselves facing difficult dental issues. To make it easy on you, at Rivers Bend, we want to give you the utmost personalized dental care. Developing a relationship with you that includes consistent checkups, a customized maintenance routine to keep all your teeth healthy as well as providing you with specific plans for any teeth needing attention. This comprehensive approach ensures you receive the highest level of care and attention you and your smile deserve.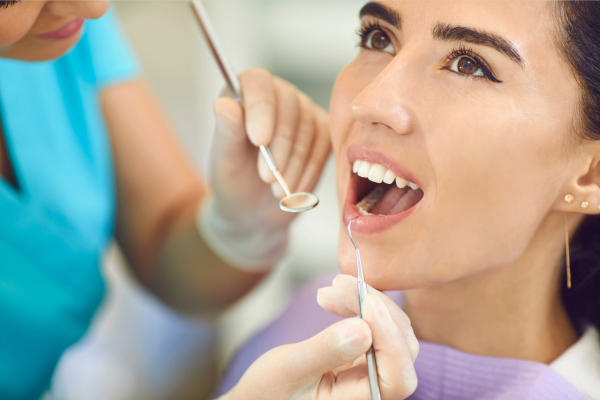 Patient Forms
Download required patient forms
Developing Good Oral Hygiene Practices
You can judge a great dental office by how much the hygienist gives details on home care. The 179 days of maintenance you do for your own teeth will have the most effect compared with the one afternoon spent with the hygienist. Practice good oral hygiene, and many problems can be avoided down the line.
Good oral hygiene practices your hygienist will sing your praises for:
Brushing and flossing all your teeth at least twice a day (morning and night)
Brushing for at least 2 minutes each session
Make sure to rinse off your toothbrush well after using it
Avoiding sugary drinks, and keep sweet foods to a minimum
Try to rinse your mouth or drink water after every meal
If you have a cavity that has formed, treat it immediately
Seeing your dentist every six months for regular check up and cleanings
At Rivers Bend Family Dental, we create a comfortable environment to address the unique dental needs of your family.