Dr. Andrea Wimmergren, DDS
Once upon a time, a little girl had a dream of becoming a ballerina. As she grew up, it became evident that her dance moves were not her strong suit so at the age of 14
she set out on a new career path–dentist. Dr. Andrea Wimmergren has a nice ring, doesn't it? A unique combination of Doctor, ENgineer, and arTIST, this new passion took her to many different places. Duluth was the first stop on the journey where she completed her Bachelor's Degree in Biology while soaking up knowledge in her job as a dental assistant. After years of training, her own finally came informing her that she was accepted into dental school.  
Onward she traveled to the University of Minnesota to learn the required skills to earn a Doctorate of Dental Surgery. She conquered every test to gain familiarity with preventative, restorative, cosmetic, surgical, and pediatric dentistry to graduate with distinction as one of the top of the class. Along the way, she met her prince charming and they were married despite the illness plaguing the land. The two settled down in the South Metro for a while before finding the perfect castle and deciding to make the North Metro their home. 
Although this tale has a happily ever after, the story is not over. Dr. Wimmergren seeks to maintain a high level of care to better serve and comfort patients through numerous hours of continuing education courses. Through these courses, she has found an affinity and proficiency for cosmetic and aesthetic dentistry. Her quest is to provide excellent care by illustrating treatment options to empower you to make informed decisions tailored to your unique smile goals. She treasures the relationships that come from continuous care in a comfortable, patient-centered environment. 
Behind the scenes, Dr. Wimmergren enjoys traveling and spending time on the water. She has a fondness for Disney magic and can often be found at home elbows deep in another project or craft. If you need any recommendations for trips to Walt Disney World, definitely ask!
Sarah, a registered dental hygienist, is a recent graduate from Herzing University where she was given
the "Student of the Year" award. Sarah was born in Minnesota and has lived in the southern suburbs her whole life.
Before attending Herzing University, she went to the University of St. Thomas for two years while trying to find her passion. From being a nanny and having four sisters at home, it was her excitement for helping others that she found her way into the healthcare field. She is driven by the connections and level of care she provides to her patients in our office. She also enjoys working in an environment where the employees are more than just co-workers, they are true friends. One of Sarah's greatest inspirations for dental hygiene was at her dental office growing up. They demonstrated patient care by making their patients feel comfortable, cared for, and listened to. Sarah strives to make her patients feel the same as how she felt when going to the dentist.
Karen is part of our great team of dental hygienists here at River's Bend Family Dental. She brings a very
personable, caring demeanor to our team. Karen enjoys connecting with her patients on a personal level while educating them on oral health and the periodontal disease process in a non-judgemental manner that motivates change.
Before becoming a registered dental hygienist in 1999, Karen worked as a medical assistant for 11 years and briefly as a dental assistant while enrolled in hygiene school. She knew at an early age that she wanted to work in healthcare. Karen graduated with high honors from Normandale Community College in Bloomington, MN.
In her spare time, Karen likes to RV and travel. She spends a lot of time with friends and family. She and her husband are both from large families and enjoy all the organized chaos that brings, there's rarely a dull moment!
Karen's 1st priority is to make sure her patients are comfortable and at ease. She creates an environment where her patients feel confident in asking all the questions they need to make well-informed and educated decisions about their oral health.
Elma is our Dental Assistant! We love her very much.
Jillian is a dental registered dental hygienist and provides a thorough periodontal exam and dental cleanings for all of her patients. She enjoys
connecting with her patients while educating them on their dental health.
She began her dental career when she was in high school, working part-time after school as a sterile technician. She wanted to make sure the dental field was something she wanted to pursue before heading to college. She graduated from the dental hygiene department at the University of South Dakota and has held a hygiene license in 4 different states, calling Minnesota home for the last 13 years.
Jillian chooses to work part-time providing the perfect work/life balance. Enjoying traveling, time at the lake, and listening to concerts and as many theatres shows as she can get tickets to.
She enjoys being part of the River's Bend Family Dental team and says, "We are like a family and are here to support each other in and out of work". Jillian also enjoys getting to know each of her patients while providing customized care for each one.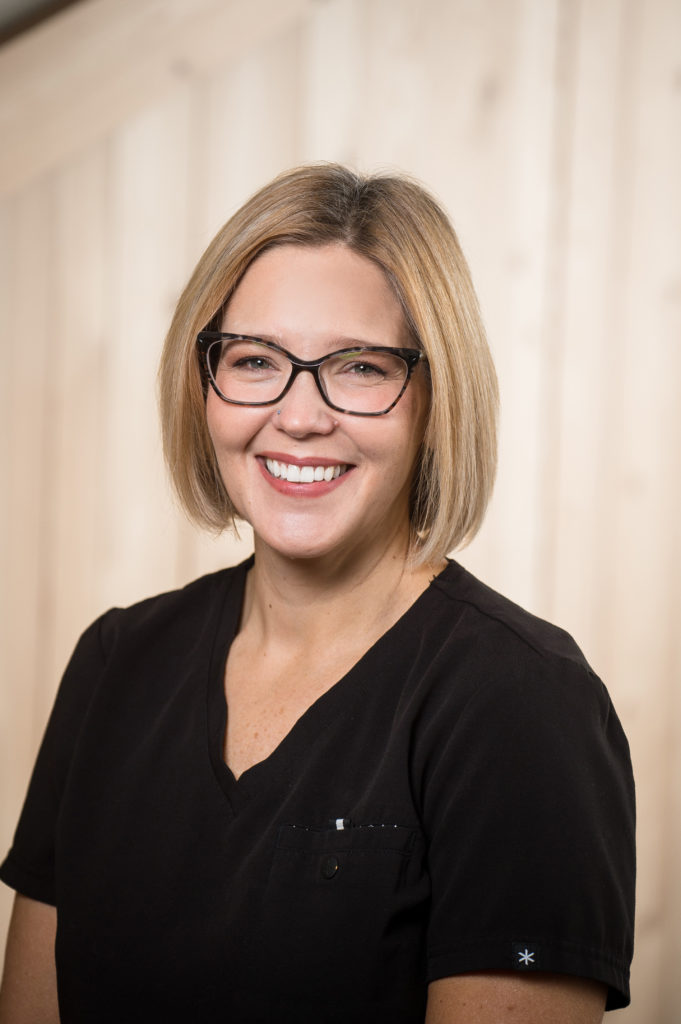 Leah, Patient Care Coordinator
Leah is our Care Coordinator and is always happy to help you schedule your appointment or answer any questions about your dental treatment. She began her career as
a Dental Assistant in 2003 and transitioned into teaching dental assisting at a college in Denver starting in 2008.
After starting her family, Leah took a break from teaching to spend some time at home to raise her young kids. She was excited to get back into the dental field when she joined our team in 2022!
She enjoys camping with her husband, three kids, and two dogs. Leah works hard to make sure you'll always have a great experience here at River's Bend Family Dental.
Cindy, Insurance Coordinator
Cindy, our bilingual Spanish/English-speaking Insurance coordinator specializes in helping ALL of our patients
understand their insurance and will kindly guide you through any question you have about a confusing dental plan.
She used to work as a welder before she realized her great interest in dentistry. Cindy has also worked closely with Dr. Wimmergren as a dental assistant, and that training really locked in her love for her career in the dental field. She still enjoys welding but has found more joy in helping patients regain confidence by helping them obtain healthy smiles!
In her spare time, Cindy really enjoys all things Disney, photography, hiking, camping, anything to do with the outdoors, and hanging out with her family and friends. Cindy strives to make patients feel comfortable in their overall experience at our clinic. She realizes the dental office may not be everyone's favorite place to be but if she can make even the slightest difference for you, her day is fulfilled.
Sarah, our Office Manager, joined the River's Bend Family Dental team in 2022. Her dental career began after
graduating from Herzing University in 2009 as a Dental Assistant. Her time as a dental assistant helped her to better understand how best to support her clinical team and our patients.
Early in her career, she worked at a dental sedation clinic where most of her patients would come in with severe dental anxiety. Sarah carries these experiences and interactions with her today and prioritizes our patient's needs, she wants you to feel comfortable and heard each time you visit our clinic.
As an Office Manager, one of her favorite ways to support you is to be your advocate when your dental insurance is denying a claim or being difficult.
Sarah spends most of her free time with her kids exploring MN parks and finding fun activities to do. She enjoys drawing, watercolor painting, or reading a good book when waiting for the next episode of Yellowstone to stream!
I brought my kids and myself to Rivers Bend and we loved it! It's very clean, the equipment is modern and the rooms are huge which is nice for families! The staff are super nice and professional and the dentist was easy to talk to. We look forward to making this our family dentist!
Michelle O.
After a more than disappointing interaction/appointment with Aspen Dental, I opted to support a more local dentistry instead and came to Rivers Bend FDC. What an incredible and attentive staff! Every part about my visit, from email inquiry to phone and email communication/customer service to in-office exam and cleaning was phenomenal. The team walked me through every step of what they were doing, while they were doing it, and helped me set-up a treatment plan that was concise, fair, thorough and exactly what anyone seeking dental care and work should receive. Could not recommend this place or this team more! Thank you all so so much!
Jacklyn G
We've only been coming here for a short time, and we've had a great experience so far! We were able to get appointments booked within a week from initial phone call which is fantastic! Staff are very friendly and welcoming, as well as nice office atmosphere. Definitely found the right place!
jessica D.
Experience Rivers Bend Family Dental Clinic