Partial Dentures In Ramsey, MN
If you have a few missing teeth but still have many healthy teeth left, partial dentures can be the ideal solution. A denture is a standard removable replacement procedure for missing teeth and surrounding tissues.
Partial dentures are the substitute for several missing teeth but not for your complete upper or lower teeth. To get partial dentures, you must have some healthy teeth remaining on your upper or lower jaw.
Here we will provide information about partial dentures, their types, procedure, costs, and the materials used in their making. If you've lost multiple teeth and are seeking an effective replacement, book a consultation at River's Bend Family Dental now.
What are Partial Dentures?
A partial denture usually consists of replacement teeth connected to a plastic base that syncs with the color of your gums. Sometimes it is also attached by a metal framework that holds the denture in the mouth. Partial dentures come in use when one or more natural teeth remain in your jaw.
A partial denture has internal attachments and is also removable, giving you a more natural-looking appliance.
Types of Partial Dentures
There are different forms of partial dentures. Here are some common examples of partial dentures:
1. Acrylic Partial Dentures
Your dentist will set the replacement teeth into an acrylic base in this type of denture. The gum-looking base is relatively thick and bulky to reduce the chance of breakage. It consists of metal clasps that connect it to your natural teeth.
Although patients can comfortably eat and talk with the device, the metal clasps are visible when the mouth opens, which some may feel is visually displeasing. Dentists primarily use acrylic dentures as a temporary option. Therefore, they are somewhat inexpensive. Patients comfortable with this option may keep it for a few years.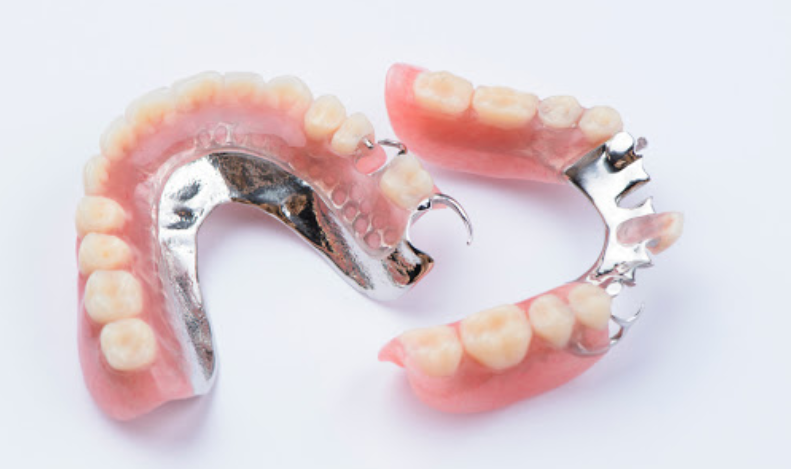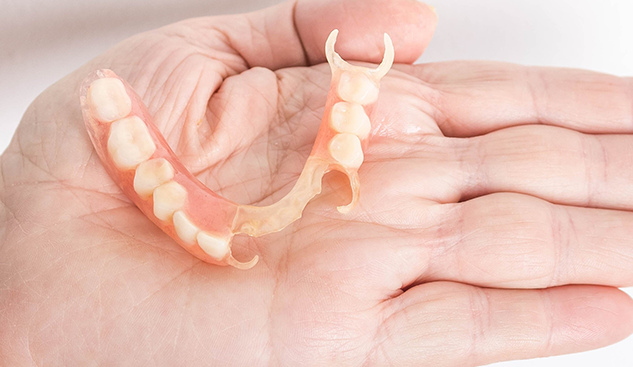 2. Cast Metal Partial Denture
The most common option is the cast metal denture. It comprises an ultra-thin, rigid metal base holding a set of acrylic teeth. The precise attachments make it more aesthetically appealing than acrylic partials. Cast metal partials are highly durable if taken care of properly.
3. Flexible Partial Denture
A flexible denture is an excellent alternative for patients who find acrylic and cast metal dentures uncomfortable or have metal allergies.
This type of partial denture comprises a lightweight, thin, thermoplastic material molded with injections to fit precisely over the gum tissues. The strength of this comes from tissue attachment. It has a natural appearance without using regular metal clasps and is chosen for high comfort.
It is usually more challenging to reline or fix this type of denture, and any damage often requires the creation of new partial dentures.
Get a Partial Denture at River's Bend Family Dental
Choosing the correct type of partial denture depends on the patient's situation. At River's Bend Family Dental, we provide patients with the necessary care and support to make an informed decision.
Our dentist will have a consultation with you to examine your teeth, gums, and mouth and even take X-rays to get an exact picture of your situation.
Partial dentures can help you regain your smile, fix any chewing problems, restore speech, and more. With River's Bend Family Dental, you can solve all your dental problems.
The procedure for getting a partial denture is pretty simple. The following are the steps that your dentist may perform.
Measuring of mouth
Removal of unhealthy teeth
Creating an impression of one's mouth
A trial fitting with temporary dentures
Making necessary adjustments to assist with comfort
Further adjustments once permanent dentures are created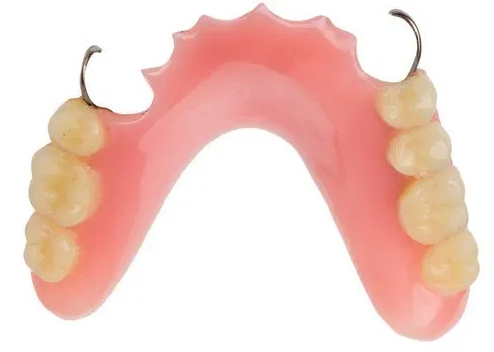 How Much do Partial Dentures Cost?
Partial dentures vary in cost, based on several factors, including:
Number of teeth replaced
Location in your mouth
Materials used
Method of creating the dentures
After receiving your partial dentures, you may also require dental care and denture adjustments.

Patient Forms
Download required patient forms
Meet your Dentist Andrea Wimmergren at the River's Bend Family Clinic
Our dental expert, Dr. Andrea Wimmergren, specializes in preventative, restorative, cosmetic, surgical, and pediatric areas and got her degree in Dental Surgery from the renowned University of Minnesota.
Dr. Wimmergren has built a long-term relationship with her patients and provides high-quality, patient-centric care to all those who visit our clinic.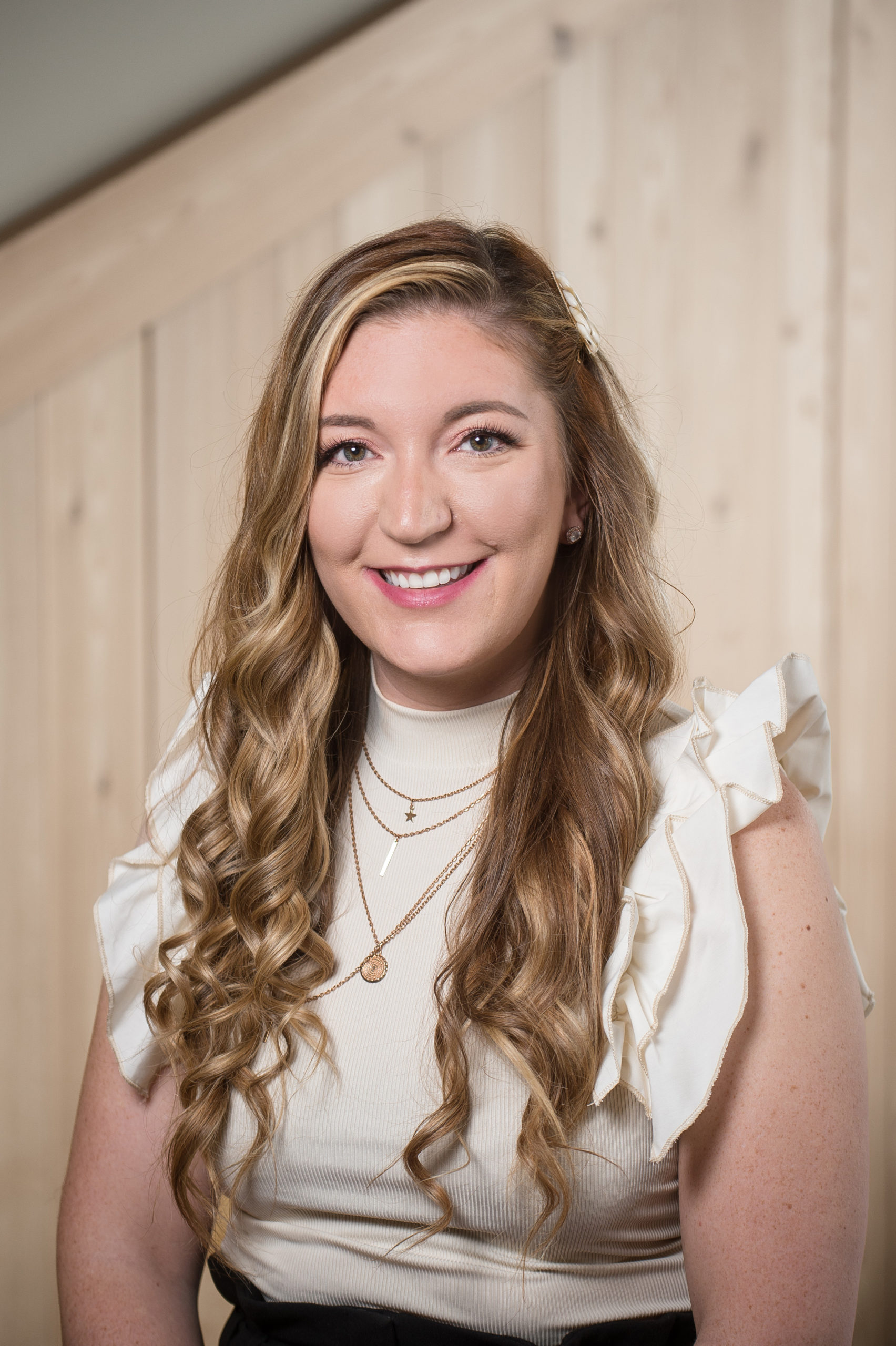 Additional Treatments Offered At River's Bend Family Dental
As a top-rated dental clinic, we provide various other cosmetic treatments besides partial dentures at River Bend's Family Dental. No matter which dental problem you're dealing with, Dr. Wimmergren is here to help you with your concern.
Our mission is to provide your family and friends with the dental care and support they deserve.
River's Bend clinic offers treatments to people from neighboring cities such as Ramsey, Nowthen, Otsego, Anoka, Dayton, Elk River, Champlin, Coon Rapids, and Andover. To find out more, contact us by calling or texting
(763) 576-1855
Now It's Your Turn To Enjoy Your Smile
At Rivers Bend Family Dental, we create a comfortable environment to address the unique dental needs of your family.
FAQs About Partial Dentures
The idea of wearing a denture can be overwhelming for those who have never lost teeth. Here are a few frequently asked questions that you may know.
Where do I start if I need a partial denture?

The best starting point for you is to see a dentist about whether or not you need a denture. A dentist focuses on fixing and replacing teeth, including dentures. They are professionals who can help determine if any other treatment option might suit you better.
Not in the beginning. Getting used to eating while wearing dentures may take time. Take your time if you feel any initial discomfort. However, once you wear them, you can eat all your favorite foods besides nuts and other complex items. Hard items can damage your teeth and your denture. Try to introduce new foods gradually.
You can only wear partial dentures all day long if you rinse them with water after eating. Rinsing and keeping your new denture is necessary to kill all the germs and eliminate food particles that may have stuck in places while eating. You have to take them off at night. Otherwise, you may increase your risk of getting an infection and discomfort.
Remember to soak them in water or denture cleaning solution once you take them out, as dentures can lose their shape or dry out if left outside.
Will a partial denture permanently replace my teeth?
That depends on your age and the health of your teeth and gum. Suppose you have lost only a few and have a relatively healthy mouth. However, if you have cavities or decay, replacing all of your teeth with dentures is the first option. Eventually, replacing this set with a fixed bridge or a dental implant might be required.
How to Care for Your Partial Denture?
Firstly, rinse your partial denture after every meal. Clean your partial denture at least once daily with toothpaste, a toothbrush, and water or a denture cleanser. Do not use alcohol, bleaches, abrasives, whiteners, boiling water, or soap to clean your denture.